RN- Home Dialysis- Northwest Detroit, Lahser

Northwest Detroit Dialysis
Do you love patient focused healthcare? Do you want the opportunity to get to know your patients better? Do you like being part of a team that you can count on? Do you want to be part of an organization where you matter and can make a positive difference?
Working at Greenfield Health Systems is about making a difference-each and every day.
Come join our team. We're hardworking, dedicated, and know that what we do makes a difference. We pride ourselves on a culture where safety is number one and where a job well done does not go unnoticed. Our team members are always encouraged to become the best they can be through growth and education.
In addition to the great benefits provided by Henry Ford Health System, you will also have the opportunity to:
· Attend an annual Renal Care Symposium that is free to our team members and offer Continuing Education Credits
· Expand your nursing skills
· Further your career by participating in a Nursing Program for Advancing Care (NPAC)
· Become Dialysis Certified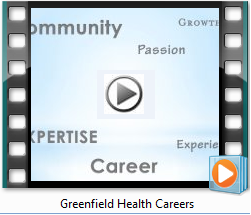 Highlights:
Southfield location.

Full time benefits.

40 hours a week.

Home therapy dialysis, this RN trains patients in the clinic.
General Summary:
Assessment planning and implementing a training strategy for each patient is the primary function of the Home Dialysis RN. This includes family and environmental assessments as well as ongoing and continuous re-evaluation of the patient at regular intervals. Provides leadership in the coordination and delivery of quality compassionate patient care. Utilizes the nursing process of assessment, planning, implementation, and evaluation to provide, delegate, supervise and document care and teaching of patients and family.
EDUCATION & EXPERIENCE:
Graduate of an accredited school of nursing.
Possess current RN licensure in the State of Michigan.
The registered nurse responsible for self-care and the home dialysis training must have at least 12 months experience as a registered nurse, plus 3 months experience as a registered nurse in the specific modality of hemodialysis (HD) and/or peritoneal dialysis (PD).
If one registered nurse is responsible for both the HD and PD programs, that nurse must have 12 months experience as a nurse plus at least three months experience in each respective modality.
A charge nurse must have a minimum of 9 months of nursing experience, and an additional 3 months of specialized experience (to total 12 months) providing clinical nursing care to dialysis patients, in either a chronic or acute setting. Preferred experience in the specialty.
Periodic travel to patient homes required.
Basic computer knowledge and keyboarding skills required.
    Overview
       Under the leadership of President and CEO Wright L. Lassiter, III, Henry Ford Health is a
       $6 billion integrated health system comprised of six hospitals, a health plan, and 250+ sites
       including medical centers, walk-in and urgent care clinics, pharmacy, eye care facilities and
       other healthcare retail. Established in 1915 by auto industry pioneer Henry Ford, the health system
       now has 32,000 employees and remains home to the 1,900-member Henry Ford Medical Group, one
       of the nation's oldest physician groups. An additional 2,200 physicians are also affiliated with the
       health system through the Henry Ford Physician Network. Henry Ford is also one of the region's  
       major academic medical centers, receiving between $90-$100 million in annual research funding and
       remaining Michigan's fourth largest NIH-funded institution. Also an active participant in medical
       education and training, the health system has trained nearly 40% of physicians currently practicing
       in the state and also provides education and training for other health professionals including nurses,
       pharmacists, radiology and respiratory technicians. visit HenryFord.com.
     Benefits
       Whether it's offering a new medical option, helping you make healthier lifestyle choices or
       making the employee enrollment selection experience easier, it's all about choice.  Henry
       Ford Health has a new approach for its employee benefits program - My Choice
       Rewards.  My Choice Rewards is a program as diverse as the people it serves.  There are
       dozens of options for all of our employees including compensation, benefits, work/life balance
       and learning - options that enhance your career and add value to your personal life.  As an
       employee you are provided access to Retirement Programs, an Employee Assistance Program
       (Henry Ford Enhanced), Tuition Reimbursement, Paid Time Off, Employee Health and Wellness,                 and a whole host of other benefits and services.  Employee's classified as contingent status are not         eligible for benefits.    
      Equal Employment Opportunity/Affirmative Action Employer
        Equal Employment Opportunity / Affirmative Action Employer Henry Ford Health is
        committed to the hiring, advancement and fair treatment of all individuals without regard to
        race, color, creed, religion, age, sex, national origin, disability, veteran status, size, height,
        weight, marital status, family status, gender identity, sexual orientation, and genetic information,
        or any other protected status in accordance with applicable federal and state laws.